Show us how YOU Stan State!
Stanislaus State Admissions and Outreach Services invites current students to submit an original video to our #IAmStanState contest.
Official Contest Rules
NO PURCHASE NECESSARY TO ENTER OR WIN. ALL FEDERAL, STATE, LOCAL AND MUNICIPAL LAWS AND REGULATIONS APPLY, VOID WHERE PROHIBITED.  
INTERNET ACCESS, A STANISLAUS STATE EMAIL ADDRESS AND STUDENT ID ARE REQUIRED TO ENTER. 
How to Enter: All entries must be submitted via an online form.
Prizes: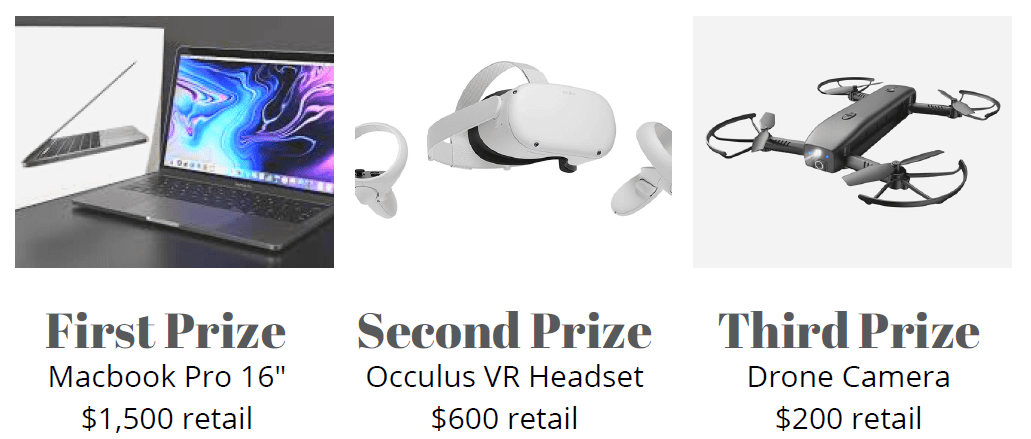 First (1

st

) Place Prize

: 16" 

Macbook

Pro. Approximate retail value at $1,500 dollars.

 

Second (2

nd

) Place Prize

: Oculus VR Headset with earbuds. Approximate retail value at $600 dollars.

 

Third (3

rd

) Place Prize

: Drone Camera. Approximate retail value at $200 dollars.
Contest Timing: 
Entry Period: 

Wednesday

, February 2

4

, 2021 at 12:00 p.m. (PST) and ends on Monday, March 22nd, 2021 at 11:59 p.m. (PDT)
                 The contest deadline may be extended at the discretion of Stanislaus State. 
Winners Announced: 

All winners will be announced and contacted by Friday, April 2nd, 2021

 5p.m. PDT

.
Official Rules: 
1. Eligibility: I Am Stan State Video Contest (the "Contest") is open to legal residents of the fifty (50) United States and the District of Columbia who are at least eighteen (18) years old at the time of entry and are currently matriculated students of Stanislaus State for the Spring 2021 semester (undergraduate, graduate or professional certificate). Student ID verification is required to enter. 
2. Disqualification: Entries submitted before or after the Contest Period will be disqualified. All entries must comply with Federal, State and local copyright law and regulations. The inclusion of unauthorized, copyrighted material or unauthorized licensed material is strictly prohibited. Videos must be original work. Entrants are responsible for obtaining consent for any persons represented in the videos. Videos containing inflammatory language, hate speech, references to hate, sexually explicit content, unauthorized copyrighted material, or unauthorized use of the likeness of an individual or party without their consent, will be disqualified. All entrants must sign, date and submit a Release of Liability form (see Contest Rule #8 for additional information) with their entry. Video formats not meeting the minimum specifications (see contest rule #9), unreadable, unopenable or corrupted files will be disqualified. In the event that a file is not readable, an effort will be made to contact the entrant to resolve the file submission problem. The entrant retains all responsibility if the Contest judges are not able to open or read the file.  Entrants may also be disqualified for failing to properly and fully submit the online entry form.
 3. Sponsor: The Contest is sponsored by California State University, Stanislaus, Admissions and Outreach Services, located at 1 University Circle, Turlock, CA 95382 
4. Agreement to Official Rules: Participation in the Contest constitutes entrants full and unconditional agreement to and acceptance of these Official Rules and the decisions of the Sponsor, which are final and binding. Winning a prize is contingent upon being compliant with these Official Rules and fulfilling all other requirements set forth herein.  
  5. How to Enter: Online Form: This method of entry will be available by visiting the form link,  following the directions provided to fill out the entry information, and submitting.  
Limit one (1) entry per person and per email address for the duration of the Contest Period. Entries received from any person, email address, or household in excess of the stated limitation will be void. All entries become the property of Stanislaus State and will not be returned.  
6. Winner Notification: The potential winners will be notified by email, mail or phone. If a potential winner cannot be contacted within the required time period (if applicable), or prize is returned as undeliverable, potential winner forfeits prize. If the potential winner is at least 18, but still considered a minor in his/her/their jurisdiction of residence, Sponsor reserves the right to award the prize in the name of his/her/their parent or legal guardian, who will be required to sign a Release of Liability on the potential winner's behalf and fulfill any other requirements imposed on winner set forth herein. Potential winners must continue to comply with all terms and conditions of these Official Rules, and winning is contingent upon fulfilling all requirements. In the event that a potential winner is disqualified for any reason, Sponsor will award the applicable prize(s) to an alternate winner in the runner-up pool. Only three (3) alternate judging panels will be held, after which the prize will remain un-awarded. Prizes will be awarded approximately 8-10 weeks after the conclusion of the Contest.  
7. General Conditions: In the event that the operation, security, or administration of the Contest is impaired in any way for any reason, including, but not limited to fraud, virus, bug, worm, unauthorized human intervention or other technical problems, or in the event the Contest is unable to run as planned for any other reason, as determined by Stanislaus State in its sole discretion, Stanislaus State may, in its sole discretion, either (a) suspend the Contest to address the impairment and then resume the Contest in a manner that best conforms to the spirit of these Official Rules or (b) terminate the Contest and, in the event of termination, award the prize at random from among the eligible, non-suspect entries received up to the time of the impairment. Stanislaus State Admissions and Outreach Services reserves the right in its sole discretion to disqualify any individual it finds to be tampering with the entry process or the operation of the Contest or to be acting in violation of these Official Rules or in any disruptive manner. Any attempt by any person to damage the website or online form, or undermine the legitimate operation of the Contest may be a violation of criminal and civil law. Failure by the Sponsor to enforce any provision of these Official Rules shall not constitute a waiver of that provision.  
8. Release of Liability Form:  All entrants must sign and date a RELEASE OF LIABILITY, PROMISE NOT TO SUE, ASSUMPTION OF RISK AND AGREEMENT TO PAY CLAIMS form.
 9. Minimum Entry Specifications:
 Video Aspect Ratio: 9:16 (full vertical) or 4:5 (vertical) 
Video Recommended Resolution: 1080 x 566 
Video Length: Up to 3 mins. 
Accepted File Types: MP4, .MOV, other mobile compatible formats.  
Theme: The theme for the video is "I Am Stan State." Show us how you Stan State! Students can focus on their personal story of why they chose Stan State, campus culture, academic excellence, school spirit, athletics, study abroad, or life in Turlock and the central valley.  Videos should include the phrase: "I am Stan State" or "I am Stan State because…"
 10. Winning Entry Criteria: First (1st) Place Criteria – The winning video demonstrates a high degree of creativity, high–quality camerawork, original artwork, design and/or scripted writing. The video demonstrates the I Am Stan State theme, exemplifying the first-person experience at Stan State, and promoting the campus atmosphere, academics, athletics, and/or student life. The tone is positive, excited and motivational. 
 DOWNLOAD the Contest rubric.
 11. Judging Procedure: A panel of up to four (4) student assistants and one (1) staff member will review all entries and determine the winning entries based on the established winning criteria rubric.  
12. Contest Termination: The Sponsor reserves the right to terminate the contest if fewer than ten (10) entries are received or of insufficient quality.
For any questions about the Contest official rules, please email adcom_assist@csustan.edu.