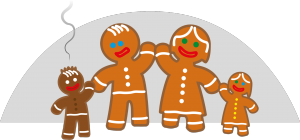 The Fall 2017 semester is officially over and it is now time for the holidays! Our student bloggers have posted their last blogs for the year and will be taking a break during the holidays. But do not worry they will be back again during the Spring of 2018 semester.
Blind Broke College Kid: Glasses can be pretty expensive, especially when you are a broke college student, yet need a par of trendy glasses that will suit you. Check out Sara's blog to see what she does to save some money on her prescription glasses. 
Final Farewell: Our lovely blogger Tamara has officially graduated from the nursing program, we are so proud of you Tamara and good luck in your future. Make sure to read Tamara's last blog for Stan State!
Christmas Decor @ Admissions: Margie is a Student Assistant at the Admissions and Outreach office at Stanislaus State, she blogs about how the department she works in decorated for the holidays. Check out her pictures!
Big Announcement:If you are a student that is a parent or a student that has to take care of younger ones, then Kaylle's big announcement is something you have to check out!!
Happy Holidays Warriors
& see you next year!
-The Student Bloggers